It's been a busy few weeks, and I haven't had much time to create intricate meals. Since finals and my thesis due date are quickly approaching, I've been craving comfort food. Big time. Last week, I made a delicious chicken and cauliflower crust pizza. Yesterday, I made amazing chocolate chip cookies from Comfy Belly. And TODAY, I made my new favorite comfort food of all, shredded buffalo chicken with sautéed red onion and ranch "cream" sauce.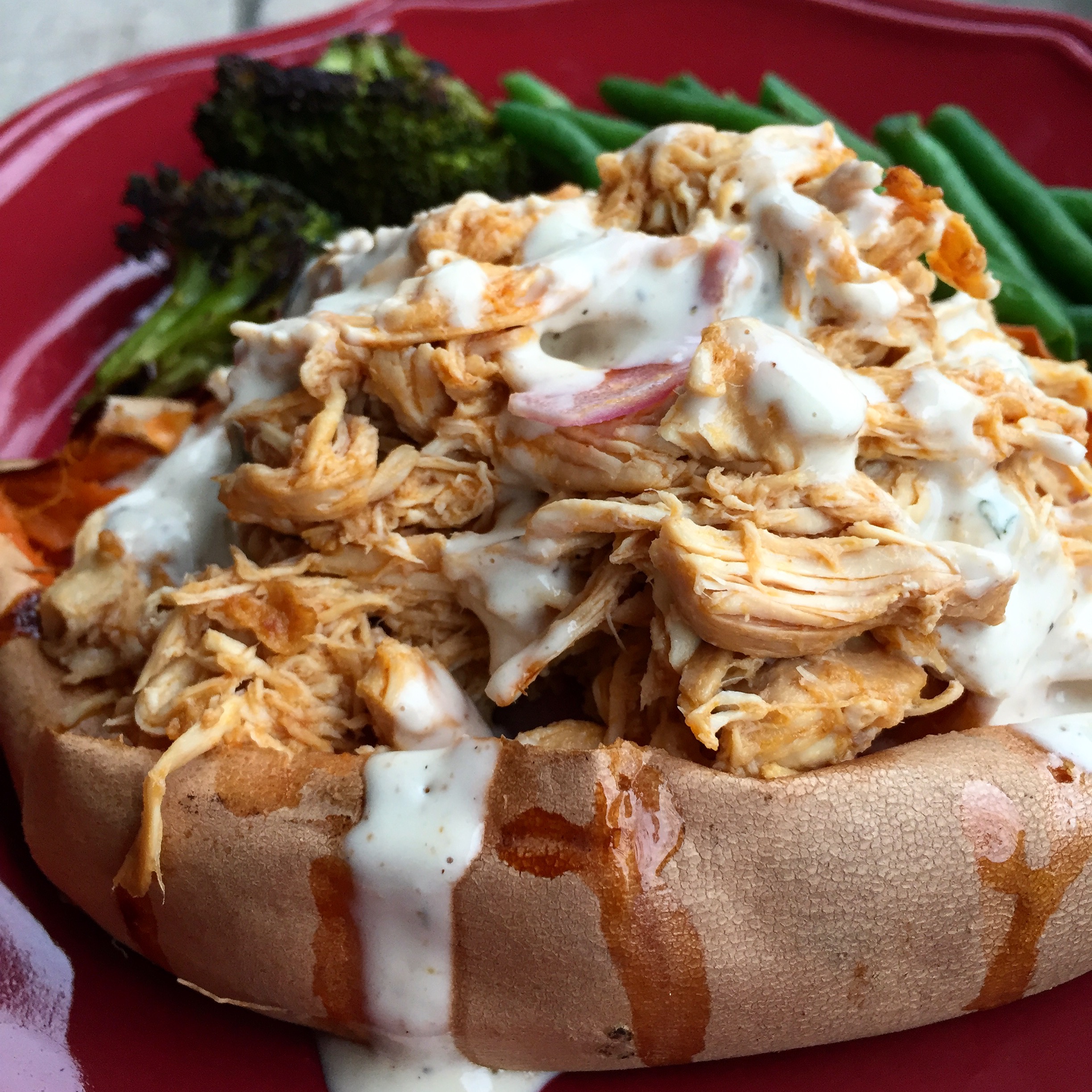 Friends, this meal is SO good. If you love yourself, you've gotta make it. The best part about this meal is how EASY it is. I threw the chicken in my crock pot yesterday while I was working at school, shredded it when I came home and stuck it in the fridge. Today, all it took was roasting my sweet potato and mixing the ranch sauce together (which takes 5 mins!) and I was DONE. There's absolutely nothing about this meal that I don't love. Try it out and let me know your thoughts.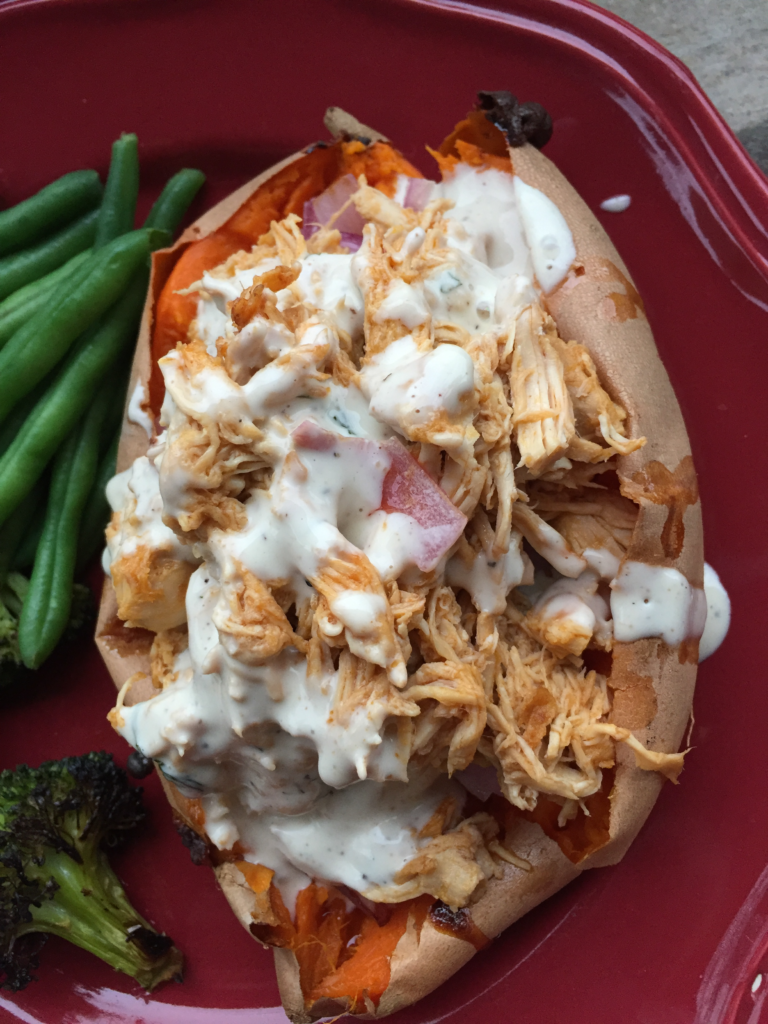 Paleo Buffalo Chicken Sweet Potatoes + Creamy Ranch Dill Sauce (Paleo, Whole 30)
Print Recipe
Ingredients
3 boneless skinless chicken breasts

¾ cup Tessamae's Mild Buffalo Sauce

1 tablespoon coconut oil (melted)

½ teaspoon cayenne pepper

4 sweet potatoes

½ red onion, chopped

For the sauce:

⅓ cup mayo (I use Chosen Foods)

⅓ cup full fat coconut milk

½ teaspoon garlic powder (I use Penzey's roasted garlic powder)

½ teaspoon onion powder

1 tablespoon fresh dill

Salt and pepper to taste
Instructions
1
Place the chicken breasts, buffalo sauce and coconut oil in a crockpot set to low for 5 hours. Once the timer goes off, shred the chicken with 2 forks and mix in with the sauce. Set aside. (I do this step ahead of time and keep the shredded buffalo chicken in the fridge and reheat it in a skillet when I'm ready to serve.)
2
Preheat the oven to 375, pierce your sweet potatoes with a fork and roast for about 45 minutes, until a knife can easily pierce through them.
3
While the sweet potatoes are roasting, chop the red onion and sautee in a skillet until translucent. Set aside.
4
In a small mixing bowl, mix the mayo, coconut milk, garlic powder, onion powder, dill, salt and pepper until smooth. Set aside.
5
When the sweet potatoes are down, assemble your meal by stuffing each potato with onion, chicken and the ranch "cream" sauce. Enjoy!
Notes
This would also be delicious over spaghetti squash. I usually make the chicken and potatoes ahead of time so I can just throw it all together throughout the week!