Growing up, I was skeptical of curry, and really all Indian food. My dad is a very picky eater and resisted eating Indian food for the first 50 years of his life. When we went on a family trip to London, he ate Indian food for the first time (and he liked it, I'll add). Needless to say, I didn't eat a whole lot of Indian food growing up, and I still don't to this day.
But lately, I've been craving asian-y, soul-y, comfort food. Asian food is incredibly hard to eat on a clean, whole foods diet. I can't whip up the soy-ridden teriyaki salmon like I used to ALL THE TIME just a year ago. This past weekend, my friend Lindsay visited me and she is a curry expert, so I knew I had to give it a try. I read through lots of different recipes for paleo curry online, but didn't find anything that fit what I was looking for so I figured I would wing it and hope for the best.
Let me tell ya, the curry gods were SMILING DOWN ON ME because this dish turned out sooooo good. It's got a whole lot of flavor and the perfect amount of spice. It's creamy and hearty and so filling! I got most of the ingredients from Trader Joe's. Their coconut cream has 1 ingredient: coconut water. That's it! I also get my spices from Penzey's, and I definitely recommend their Now Curry Powder and Garam Masala. Getting high quality spices definitely makes a difference in this dish! My friend Lindsay approved and even is planning on making it herself this week! It's that good. I'm going to be home in a few weeks and am definitely planning on making this for my dad, too. Even a curry-phobic like him will enjoy it, guaranteed.
If you make this recipe, let me know your thoughts! Xoxo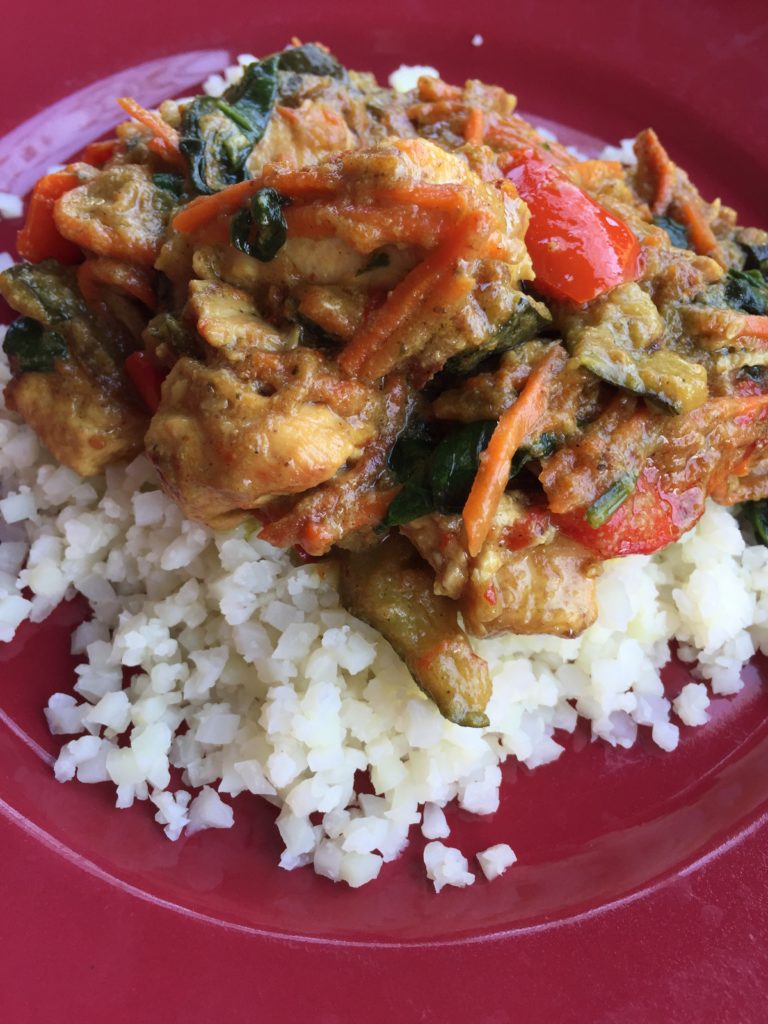 Ingredients
2 tablespoons avocado oil or coconut oil

2 small zucchinis, chopped

2 cups shredded carrots

1 red bell pepper, chopped

2 cups baby spinach

1 medium yellow onion, chopped

5 cloves garlic, minced

1 teaspoon fresh ginger, minced

3 large chicken breasts, cut into 1 inch pieces

2 cans full fat coconut cream (I get mine from Trader Joe's because they do not add any gums)

3 tablespoons curry powder (I use Penzey's Curry Now Powder)

1 tablespoon garam masala (I use Penzey's)

Red pepper flakes to taste

Salt and pepper to taste
Instructions
1
Heat the oil in a large skillet under medium high heat until hot. Add onion and half the shredded carrots. Stir occasionally until onions are translucent.
2
Add the chicken to the pan, season with salt and pepper and stir occasionally until chicken is browned and no longer pink.
3
Add the red pepper, curry powder, garam masala, red pepper flakes and salt and pepper. Stir and let sit for for a few minutes.
4
Add the white, thick part of the coconut cream (do not add the watery part at the bottom of the can) to the skillet and mix. Lower the heat to medium low, cover and let simmer for 25 minutes.
5
After 25 minutes, add in the zucchini, spinach, and the remaining shredded carrots. Cover for 10 more minutes until the zucchini is cooked, then cook for another 5-10 minutes uncovered to let the sauce thicken a bit. You may need to remove some of the oil that rises to the top of the pan as the sauce thickens.
6
Serve over cauliflower rice or sweet potato. Enjoy!
Notes
The veggies in this dish could easily be mixed up. I recommend zucchini because it adds some bulk, and the spinach makes it absolutely delicious, but you could definitely add whatever veggies you happen to have in your fridge! I definitely wouldn't replace the carrot, onion, and garlic, though.