One of the hardest obstacles I dealt with when first going grain, dairy, and soy free was figuring out quick ways to get breakfast. I've always been a breakfast on the go type of gal. Even when I have the time to make a big, intricate breakfast, I opt for something quick and easy. Lately, I've been eating steel cut oats for breakfast because there is some research oatmeal is effective in healing your gut and my body handles it really well.
On most days, I eat my sweet oats and am out the door. But other days, I crave savory- that Sunday brunch, eggs, bacon and hash browns savory. And thus, these brunch bites were born to combine my two loves: Sunday brunch and quick, portable breakfasts.
Japanese sweet potatoes are my most recent potato of choice, but these bites can be made with so many different types of bases. Not a sweet potato fan? Regular potatoes would work just as well. Don't tolerate potatoes? Mash up some steamed cauliflower and use that instead. The possibilities of add-ins on these brunch bites can be endless. This time around, I threw in Bilinski's mild italian sausage, roasted carrots, and sauteed spinach. You could basically throw in whatever meat (or no meat) and veggies you want. The perfect excuse to clean out your fridge!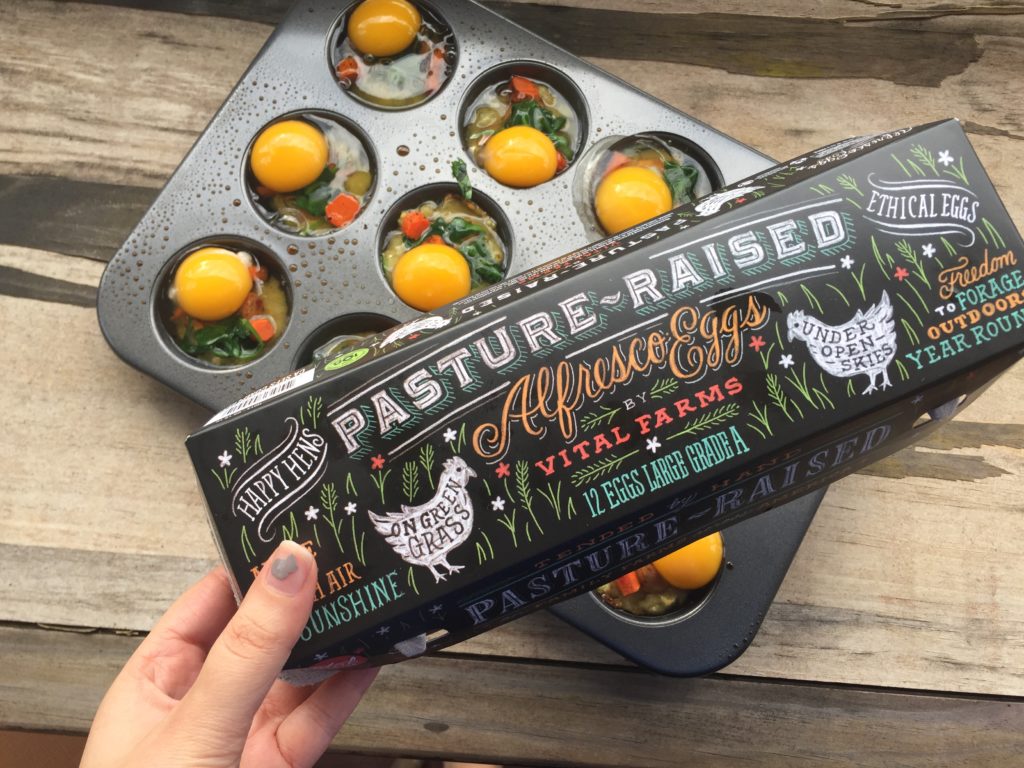 Ingredients
2 medium potatoes (sweet, japanese, yukon, etc), or 1 head cauliflower, steamed and mashed

1 teaspoon coconut oil

⅛ cup unsweetened almond milk

1 teaspoon paprika

1 tablespoon avocado oil or olive oil for sauteeing

Chicken sausage (I used red pepper chicken sausage from Costco)

Spinach

Red pepper, diced

Red onion, diced

2 garlic cloves, minced
Instructions
1
Mash your roasted potatoes (skins removed) or steamed cauliflower with a fork or potato masher. Add in the coconut oil, almond milk, paprika, salt and pepper and mix to combine. Set aside.
2
Heat a pan on medium heat with the avocado or olive oil. Add in the garlic and onion and stir until the red onion becomes translucent and garlic is fragrant. Add in the red pepper, chicken sausage and spinach, and cook until the vegetables are soft. Set aside.
3
Grease a cupcake/muffin pan with coconut oil thoroughly. Fill the cup halfway with your potato or cauliflower mixture. Bake in oven at 400 for 20 minutes.
4
Remove potato/cauliflower filling from the oven and top with your veggies and protein. Then carefully crack an egg on top of each cup. Bake for 15 minutes at 400 degrees, or until the egg whites are set and the yolks are slightly runny. Enjoy!
Notes
Depending on how large your eggs are, you may need to remove some of the egg whites so the brunch bites do not overflow. To do this, separate the egg whites into a bowl as you crack each yolk on top of each muffin slot. Then, pour in enough egg white from the bowl to fill the muffin cup to the top.